How to invest in digital assets in 2022?
A digital asset is an asset that does not physically exist and is represented only in a digital form. At the same time, it has a certain value. It can be bought and sold, exchanged, or donated.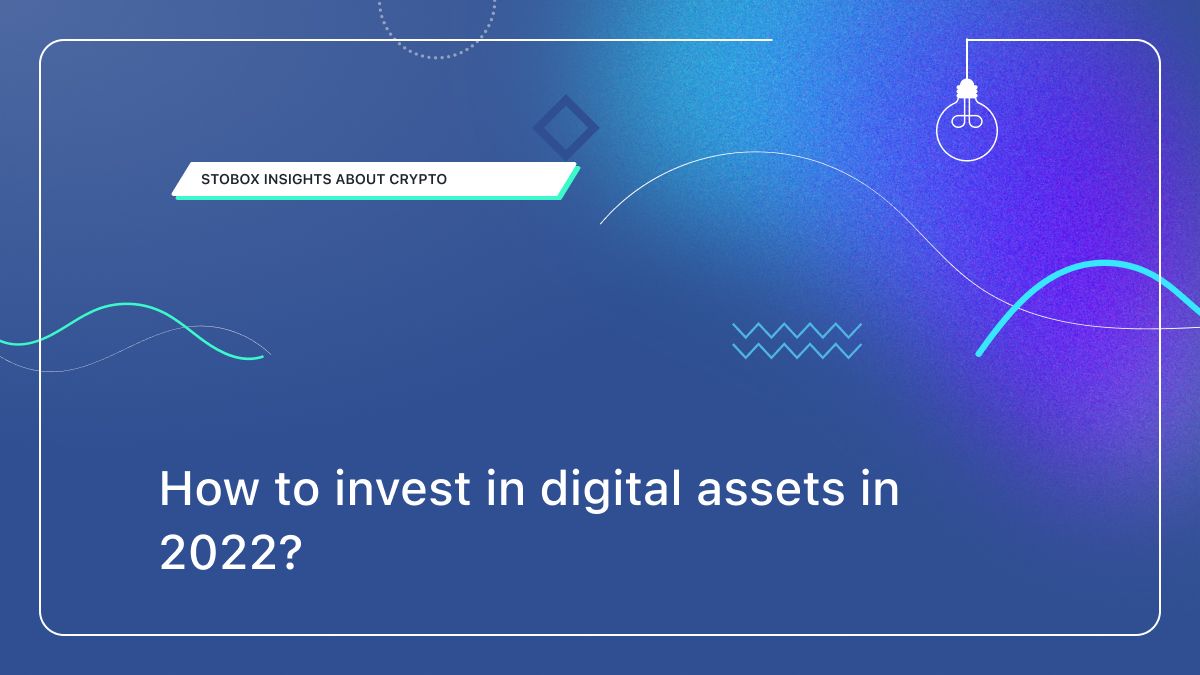 According to a study by Fidelity Digital Assets, institutional investors show tremendous interest in digital assets investment; almost 80% of interviewed investors find them attractive. Nearly 40% of survey participants reported that they had already invested in digital assets, and 60% noted that they would do so one way or another.
This is not surprising because the sphere of digital assets investment is developing very dynamically. After 2017, when the first cryptocurrency boom took place, cryptocurrencies and tokens became a really attractive asset for investors. However, in order to start working with them, you need to know about some of their features. This article will tell you how to invest in digital assets in 2022.
What are digital assets?
A digital asset is an asset that does not physically exist and is represented only in a digital form. At the same time, it has a certain value. It can be bought and sold, exchanged, or donated. Previously, photos, music, videos, etc., were considered digital assets. However, with the advent of blockchain and cryptocurrencies, digital assets' meaning has changed and become more relevant to crypto assets.
Cryptocurrencies and tokens are digital assets that are issued on the blockchain. In this aspect, digital assets can be cryptocurrencies (for example, Bitcoin) and tokenized assets (for example, security tokens or NFTs). Cryptocurrencies and tokens can bring great profits to holders but can also lead to significant losses. Therefore, you must understand this sphere and invest according to a specific strategy.
How to invest in digital assets
Today, there are many options to invest in digital assets. We will talk about several suitable methods.
How to buy crypto
Buying cryptocurrencies is the most popular type of digital asset investment. According to Coinmarketcap, there are over 9,000 different types of coins. It is important to remember that not all of these cryptocurrencies are promising, and some of them may be scam projects. Therefore, it is imperative to carefully check the cryptocurrency before investing your money in it. To buy these digital assets, you need to take the following steps.
Register on a cryptocurrency exchange. Choose a reliable and well-known exchange. Ensure that the trading platform allows you to work with the currencies you have chosen to invest in.
Top up your account. On some exchanges, you can also buy digital assets directly, for example, through an exchanger or P2P exchange (if exchanges have such functions).
Make a deal. Choose one of the instruments and complete the transaction. Cryptocurrency will be credited to your wallet on the exchange.
Withdraw cryptocurrency to another wallet. It is best not to store it on the exchange but to use a desktop, mobile, or hardware wallet.
How to invest in exchange-traded crypto investment products
Another digital assets investment example is cryptocurrency investment products. For example, these can be exchange-traded funds (ETFs) or index certificates backed by cryptocurrencies.
There's no need to register directly with crypto exchanges to invest in exchange-based crypto investment products. Such products are also traded on stock exchanges. You can also choose a tool that is indirectly related to the blockchain. That is, you invest not directly in cryptocurrency funds but in the shares of a company that works with the blockchain.
The advantage of investing in exchange-traded crypto investment products is that you won't need to store cryptocurrencies. Before investing in exchange-traded funds, you need to:
Conduct research on bitcoin trackers.
Open an account on a cryptocurrency or stock exchange.
Top up your account.
Select an ETF or certificate.
Open a buy order.
How to buy bitcoin futures and options
You can also invest in cryptocurrency through derivative instruments – futures and options.
A futures contract is an agreement between parties to buy or sell an asset at a specific price on a specific date.
Options are instruments that give the buyer the right to purchase an asset at a fixed price, but the buyer is not required to make a purchase transaction. If they still buy the product, then they must sell it.
Cryptocurrency futures and options work in the same way. By investing in such instruments, you are speculating on the price of digital assets in the future. In order to invest in digital assets in this way, you need to follow the following steps.
Get training in cryptocurrency futures and options trading. Get the necessary knowledge and practical skills.
Open an account on a crypto exchange. It is important to know that not all exchanges offer such tools.
Top up your account.
Select the financial instrument you are interested in.
Make a deal.
How to invest in tokens
Cryptocurrencies are going through hard times in 2022. There is a steady downward trend in prices, and it is difficult to predict when it will reverse. However, if you want to invest in digital assets, there is an alternative. You can invest in tokens like many digital assets investment companies do. Currently, the best solutions are investing in utility tokens, NFTs, or security tokens.
Utility tokens
Utility tokens are similar in nature to cryptocurrencies, but unlike them, they are not a means of payment. Such digital assets are issued by specific platforms, allowing you to get particular preferences. For example, holders of utility tokens can get a discount on any goods or services offered by any platform.
Utility tokens, like cryptocurrencies, are sold on crypto exchanges. Therefore, if you have an account on the trading platform, you can invest in them. However, it is important to approach the choice of such tokens no less carefully than the choice of cryptocurrencies. Unfortunately, there are many scam projects.
NFTs
NFT is a non-fungible token. Its key difference from other digital assets is that such a token or group of tokens is unique and has no analog. They cannot be equally replaced.
NFTs have been widely used in the digital arts. They are used to tokenize various art objects such as photographs, illustrations, audio recordings, and more. Collectible NFTs are of particular interest.
NFTs are sold on special marketplaces, where you can create and sell your token too. The most popular marketplace is OpenSea. Also, large cryptocurrency exchanges, such as Binance, open their own platforms for selling NFTs.
Related: How to monetize art with NFT: all there is to know
Security tokens
Security tokens are another digital asset investment example that is actually digital security. Such assets are used to tokenize various companies or assets. For example, you can tokenize company shares and sell them digitally.
The sphere of tokenization is actively developing; it has aroused great interest from investors. The financial regulators of the leading countries recognize the security token as a security, which provides reliable protection for investors. In addition, such tokens allow you to divide an asset into several parts, which lowers the entry threshold. To buy security tokens, a person does not need to be an institutional investor – private investors from various countries can buy such tokens.
Security tokens are sold as part of an STO. The STO has certain similarities with IPO, but digital assets are issued within its framework. Investors can hold security tokens in anticipation of a rise in value and then quickly sell the asset on the secondary market, which opens up thanks to solutions such as DS Swap by Stobox. Security tokens have high liquidity, which makes them easy to sell and buy.
Summary
Digital assets investment is a trend that has been observed for the past ten years; with the start of the cryptocurrency boom in 2017, this trend has skyrocketed. Investing in cryptocurrencies is not problematic from a technical point of view. There are many assets, derivatives, and platforms where you can buy them. However, in 2022, investing directly in cryptocurrencies does not look like a reliable solution. The best choice at the moment is tokens that are actively developing. Investors can invest in utility tokens, NFTs, or security tokens. Each asset has its own specifics, but they can bring good profit both in the short and long term, so they are of interest to investors. If you want to issue digital assets to attract investments, we will be happy to advise you. Sign up for your first free consultation today!