2022 Stobox Community Report
This report is a retrospective of events that have taken place over the past year. In addition to the retrospective, we want to share plans for the new year 2023 and also highlight the most important focus points of Stobox team.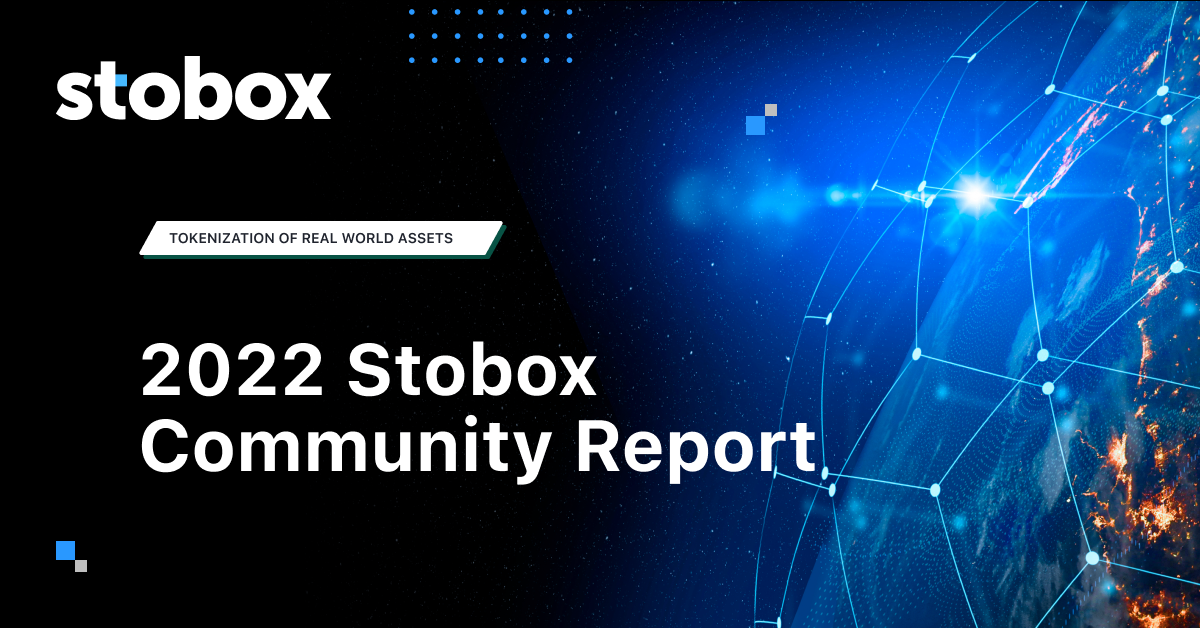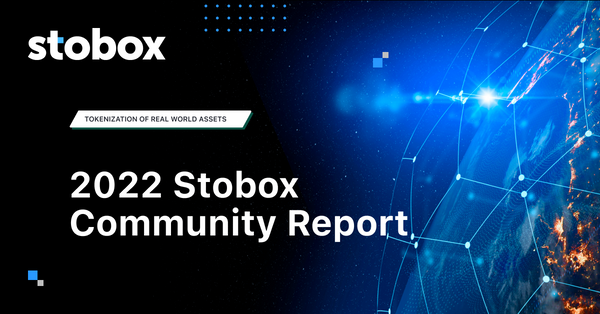 This report is a retrospective of events that have taken place over the past year. In addition to the retrospective, we want to share plans for the new year 2023 and also highlight the most important focus points of Stobox team.
The Stobox yearly report consist of four main sections:
Vision & Business Modelling (Public)
Facts & Retrospective (Public)
Roadmap for 2023 (Public)
Shareholder's Report (for STBX security token holders only)
The past year was the most difficult for the entire time, not only for the company but for life in general. The main event of the year, which affected everything around us, was the war in Ukraine 🇺🇦. Throughout the year, our team has been adapting to the new conditions of life, trying not only to maintain the current market position and ensure the smooth operation of our products and services but also to succeed in the struggle for a leading position in the market of global tokenization providers.
2022 was a difficult year not only for Ukrainians and Stobox team but the crypto industry in general. A series of bankruptcies of major market participants (Celsius, 3AC, FTX, Alameda, etc.) led to a decrease in market capitalization and exposure to fundamental problems with unregulated participants in the blockchain industry. The loss of confidence in the big players and the harsh pressure from the regulators actually called into question the development of the industry in the format in which it evolved until last year.
Since the founding of the company in 2018, we, as Stobox team, have relied on the tokenization of real assets in compliance with all the requirements of international laws and the principles of the financial market and the circulation of tokenized securities. We remain unchanged by our principles and are even more convinced of the truthfulness of our vision and the solutions that we build for our clients. We are convinced that tokenization will be the main driver of the transformation towards decentralized technologies and continue to develop and innovate in this emerging market.
Vision & Tokenization Business Modelling
Upon founding Stobox, the founders set out the goals to dive into the fundamental aspects of asset tokenization, innovate in tokenization, and become a global leader in tokenization services. This is reflected in the core principles of the company:
Vision
Stobox is the ultimate gateway to the world of the upcoming digital securities evolution.
Mission
We strive to enable businesses to implement decentralized blockchain technologies, simplifying operations with digital assets and securities and removing the obstacles to their adoption.
Values
Promotion of innovation and tech evolution;
Implementation of new business models;
Simplification of tokenization processes;
Promotion of community-driven businesses.
In the process of evolution, we are constantly developing and improving the possible implementations of tokenization and the business model of monetization. In 2022, we managed to take a very important step. We have developed and digitized all the processes for implementing tokenization cases, which allows us to commoditize tokenization as a service. We have perfected this approach in more than 30 cases of our clients. In 2023, we plan to standardize all processes in accordance with international certification requirements.
In addition to services, the key product of Stobox is SaaS platform DS Dashboard for issuing and managing security tokens. For more than 2 years, we have been building and improving the product. As of the end of the year, 12 companies successfully issued their tokenized securities worth more than $350 million based on our technology. Some of these funds have already been raised.
We are setting more and more ambitious goals for products, and in 2023 our goal is to fully automate the physical issuance and security of tokens by any business without the direct participation of Stobox. We see an opportunity for thousands, millions of businesses around the world to be able to issue and operate tokenized securities without going into the details of regulations and complex processes. It is thanks to automation and AI that we plan to significantly reduce the entry threshold for tokenization for small and medium-sized businesses.
The implementation of our vision involves the interaction of a number of our solutions, which we have segregated into independent products:
Soulbound ID
Web3 identities to provide legally compliant access to DeFi. Global access to a Decentralized Financial Internet.
Stobox DS Dashboard
Comprehensive SaaS solution to streamline all operations with security tokens.
Stobox DS Swap
The decentralized secondary market for security tokens.
Progress Protocol
Decentralized protocol for the circulation of security tokens, taking into account local regulations and international legislation.
Full support of clients in the process of tokenization. Assistance in choosing the best business model, jurisdictions, regulations and building a roadmap for tokenization projects.
Progress Protocol
When we started building Stobox ecosystem, we assumed that having our own distributed ledger for issuing tokenized securities is the best solution for scaling. We started working on the concept of our own blockchain based on Ethereum Virtual Machine - Progress Network. But the rapid development of web3 and the regulations around them, over time, as well as all sorts of security risks forced us to abandon this idea. On the contrary, we have decided to use the current networks, primarily Ethereum. This will significantly reduce risks and make us more flexible in the solutions we provide. Not to mention the costs of developing and maintaining the network. The idea of Progress Network has been transformed into an add-on or protocol for fulfilling the conditions of security token regulations. In other words, it is a set of smart contracts that ensure the fulfillment of all requirements for the circulation of securities on the blockchain. What used to be done manually by finance and compliance can now be coded into smart contracts. This solution fully satisfies our vision and is much simpler and cheaper. In 2023, we plan to finalize the main part of the project and integrate it into the current architecture. We will definitely present the full functionality of the entire ecosystem separately, taking into account the implementation of the Progress Protocol.
It is also worth noting a very important fact. Stobox has not yet attracted venture capital investments and is funded by operating profits. This is an identical case in the market of tokenization providers, which goes beyond the usual cannons. This fact makes us even more aggressive in relation to our goals and forces our team to allocate the resources available to us as efficiently as possible.
Facts & Retrospective
Only the main events in 2022 that influenced the development of Stobox projects are included and described here.
DS Dashboard
Released 5 versions of the product from 2.18.19 to 2.22.23 adding important functionalities, making the product more sustainable and client-friendly. The main difficulty was the war, where our task was to relocate and retain the technical team and learn how to work in the conditions of hostilities and constant risk and interruption in electricity and communications. We did not stop development for a single day and fulfilled all obligations to customers on time and in full.
DS Swap
Implemented the world's first decentralized exchange for the circulation of security tokens on the Binance blockchain and listed the first client - real estate company Landshare from the USA. Security tokens of the first client are successfully traded on the swap. The product is ready for integration with other blockchain networks and fully complies with regulatory criteria for the circulation of securities.
Soulbound ID
We have put together the concept of the first unique solution for automating KYC on the blockchain. Today, few people understand the importance of this product, but without it, it is impossible to implement current and future regulation of crypto-assets for Stobox clients, as well as it is impossible to scale the ideas of tokenization and realize our long-term plans. We are grateful to our partners - the Ukrainian technology team Сody and internationally recognized KYC provider Sumsub, who help us in the development and implementation of this project.
Marketing & Promotions
Stobox participated at SIGMA AIBC Summit Dubai 2022 as an exhibitor. More and more people are recognizing our company as a leading provider in tokenization.
Stobox was awarded as the best startup from the US by the recognized tech media Hackernoon.
We launched the Stobox website 3.0 and optimized the lead gen and ad campaigns. The number of leads for tokenization with Stobox has increased 5 times!
Partnered with Security Token Market - leading US-based tokenization experts that promote security tokens.
Refactored and relaunched Stobox Blog to provide a better user experience for our followers.
Additional achievements & artifacts
Stobox Token v.2. smart contract has successfully passed an audit by Certik.
Conducted Stobox educational series with more than 30 articles!
Launched Stobox DAO.
Conducted the first token burn and buyback of Stobox Utility Token (STBU).
Selected metrics
Engaged 30+ clients for tokenization
Deployed DS Dashboard for 11 clients
Published 40+ professional articles
Published 23 videos on Stobox YouTube Channel
Roadmap for 2023
Our roadmap primarily depends on funding. As we mentioned earlier, Stobox has not raised any venture capital funding and operates solely on its core business income. Stobox is the only example of a tokenization market that we know of that is powered solely by operating profits.
The main task for the current 2023 is operational and technological scaling. The demand for tokenization is growing rapidly and our task is to cover this demand. We plan to do this through the following actions:
The release of DS Dashboard 3.0 to the market will allow customers to independently deploy and manage their tokenization projects without the active participation of Stobox.
Integration with Fireblocks custody service for institutional clients. Not all large businesses can and are ready to operate exclusively on web3, while they want to tokenize their assets. To do this, you need to transfer all processes from web3 to web2 and ensure a seamless transition of tokenized assets from one environment to another, taking into account the rules for the circulation of securities. This is a complex and challenging task.
Implementation and popularization of Soulbound ID. Our plans are to gather a community of investors, both accredited and public, to provide them with the opportunity to invest in various projects around the world. Real businesses with real potential that bring dividends to their investors. Seeing the amount of deception in the market and the difficulties that ordinary small investors face, we see this as part of our mission.
Strengthening marketing not through direct advertising, but through the introduction of added value. Our successful clients are our best marketers. We do not create partnerships for press releases and do not spend hundreds of thousands of dollars on advertising. Perhaps that is why for many market participants we are still unfamiliar. We see cases of rapid ups and downs and see no other way for ourselves as a planned systemic development.
The self-deploying solution that we are building will significantly reduce the costs for small businesses to enter the application of tokenization. Scalability will attract thousands of new businesses and millions of new investors to this market. We are building something that no one has done before us, and 99.9% of people do not even understand that this is possible.
Attracting strategic venture investors to fulfill our plans and stated vision. Today, any investor who shares our vision and plans has the opportunity to invest in Stobox through our STO. To do this, one needs to register on our DS Dashboard and pass verification.
Integration of the Stobox Utility Token into products and its full use in the ecosystem.
🔒
The financial report is available only for existing
STBX
investors or potential investors who have
registered
and passed identity verification on Stobox DS Dashboard. The financial report for the year 2022 will be published later in Q1 2023.
We believe that this year will be very productive for us. We also believe and expect the victory of Ukraine 🇺🇦 and all our allies against Russian aggression and the establishment of peace in our country. We would also like to thank our early investors who believe in our success. To thank our community and wish everyone peace and good in the new year. We keep building…
Best regards from Stobox team!