Boosting your brand marketing with brand tokens: benefits and implementation.
For private companies, tokenization offers a number of benefits that couldn't be accessed with traditional finance: this concerns security token offerings, multiple ways to structure a company, increased liquidity, as well as a broad range of other instruments.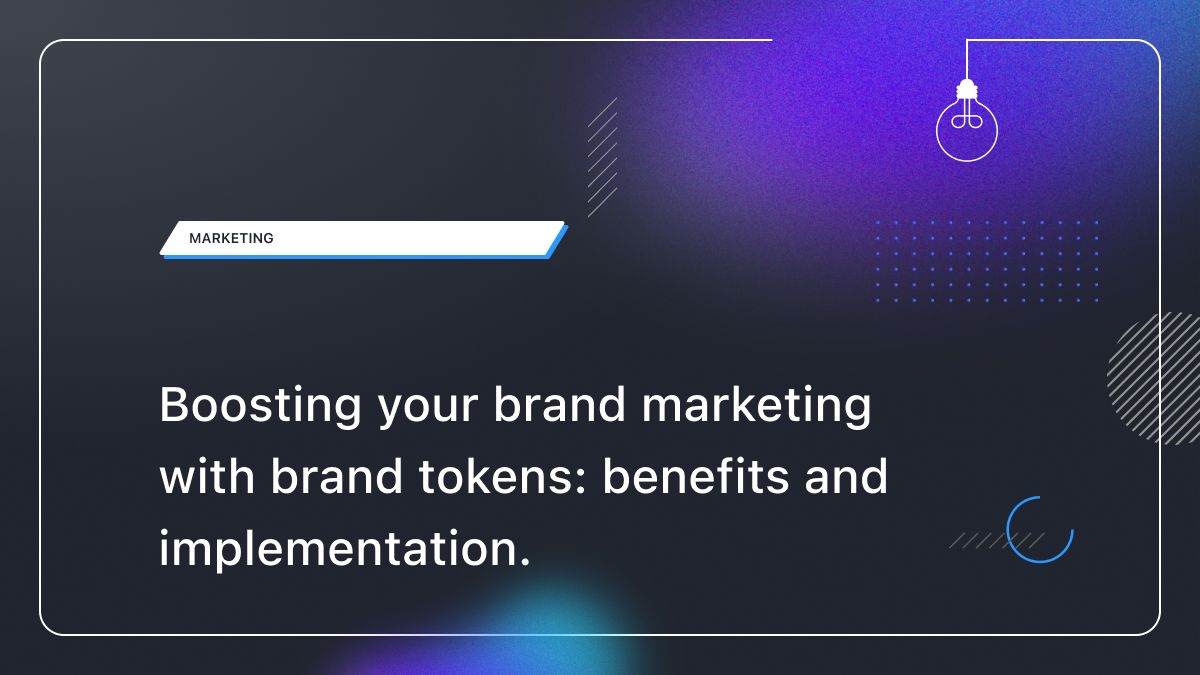 For private companies, tokenization offers a number of benefits that couldn't be accessed with traditional finance: this concerns security token offerings, multiple ways to structure a company, increased liquidity, as well as a broad range of other instruments. However, blockchain is useful not only in the finance field: marketers worldwide are using the instruments it offers to raise the brand's visibility. One of these instruments tokenization provides is a digital brand token.
What is a brand token?
The brand token is a token on the blockchain backed by the business's, community's or individual's reputation. It's a sub kind of social token, which mainly possesses features of the utility token. It has some elements of a security token too but isn't a security token itself. While the latest is a tokenized stock and functions primarily as a fundraising instrument, the brand token carries a marketing purpose.
One of the most widespread reasons to launch a brand token would be to raise awareness of the brand's activities along with its promotion. Provided that such tokens carry primarily a community-uniting function, it is used mainly by fashion, art and cultural-based businesses. Today, blockchain and DeFi offer two types of tokens that help achieve these results: brand tokens and NFTs.
Before we jump to why companies engage in this technology and why it works, let's deconstruct the technology behind a brand token to make it clearer.
Brand token vs other token types. Understanding brand token's anatomy
Let's draw a line between a brand token, a security token (which, once again, a brand token can have some features), a utility token, and an NFT, see what all of them have in common, and how they differ.
A security token is basically a company's tokenized stock. They are mostly issued by private companies and are regulated by the Securities and Exchange Commission, just like ordinary securities. Security Token Offering (STO) ― the process of offering tokenized stock to investors ― is often viewed as a more beneficial analogue of Initial Public Offering (IPO). This is because it allows trading the company's shares not only to major investors but smaller ones using blockchain; respectively, the STO's cost is much more modest as well.
In simple words, buying a company's security token would mean becoming its shareholder. In an analogy, buying the brand's social token means investing in its reputation and raising its price, therefore adding value to clients who may become shareholders.
The closest to a brand token's type of digital asset, a utility token, is a token providing or accelerating a certain utility. It can be compared to the game money or loyalty points and is mostly used to conduct payments inside the company's ecosystem. Like utility tokens, brand tokens can be used to authenticate and invest in transactions. One of the brand tokens' functions is paying for the brand's items.
Along with the brand token, a non-fungible token (NFT) is one of two efficient blockchain-based instruments brands use to increase their visibility; however, these two token types are drastically different in their structure. While the brand token is 80%-utility and 20%-security half-blood, an NFT is a unique token, which is why it's also called collectible. A non-fungible token is impossible to replicate or copy, which makes it convenient to use as proof of ownership. NFTs work on both the technological ownership-prooving end, serving as a digital certificate for rare meds or a way to scan a ticket, and the artistic or marketing direction, allowing artists to sell their works or enabling brands to create authentic digital items, therefore acquiring one more way to speak to their audience.
Related: How to monetize art with NFT: all there is to know
Both NFT and the brand token are the weightful pillars of blockchain-based marketing, but unlike NFT, the brand token is interchangeable (like, for instance, any payment token), while an NFT is a digital collectible.
Provided that it's the culture-related industries that mostly use a solution of the social token (like art or fashion), the benefits we will be highlighting would relate to an appropriate topic.
Increased profits for the creative department thanks to an additional channel of monetization;
A possibility for clients to make purchases with the token or keep it as an investment, thus increasing their chances of becoming the shareholders;
Enhanced company's image and a strong statement of keeping up with the technology;
A promise of actually owning an asset will not only convert more clients (or engage the existing ones even more) but will also give these people a sense of unity. It's much more natural to care about your community's well-being (or the one you belong to) rather than think about the profits of a random board of directors.
How top companies use brand tokens. Case studies
Let's take a look at a couple of brand token cases, and outline the benefits of this solution based on the highlighted examples.
Tiffany Brown Designs
Tiffany Brown Designs created international headlines on March 21st, 2019, by announcing a successful Pre-ICO that would conclude in less than 24 hours. The company intended to leverage the TBD Token and platform to link designers with end customers directly.
The TBD Token is utilized as a utility token to validate the brand's clothes via a private blockchain system within their ecosystem. The token also grants customers access to exclusive promotions and benefits only available to token holders.
Faith Tribe's fashion ecosystem
Faith Tribe is an open-source design platform whose mission is to empower designers and other creative people engaged in the fashion industry, both offline and in the metaverse. Designers will be able to produce physical or digital collections, mint them as NFTs, and sell them on a digital fashion marketplace, paving the way for their development and success thanks to tokenization. The project entails the establishment of $FTRB, a community token that serves as a unifying currency for the community and ecosystem's numerous components, which also plays a role in governing the Faith Tribe DAO.
The community coin grants both economic and governance rights, allowing coin holders to influence product direction, leadership decisions, and treasury money distribution.
Related: DAOs: a new and better way to consolidate people thanks to blockchain
A successful case of launching a brand token requires three things: a brand, a community, and a dedicated team of blockchain professionals. The complicated technical task of establishing your own brand token is something done best with the experts' help. If you feel that your brand is ready for such a solution, don't hesitate to contact the Stobox team and get a free 30-minute consultation.