Stobox - The Power Of Tokenization
Stobox's proprietary methodology and practices allow transferring any asset to the blockchain in a legally compliant and efficient way.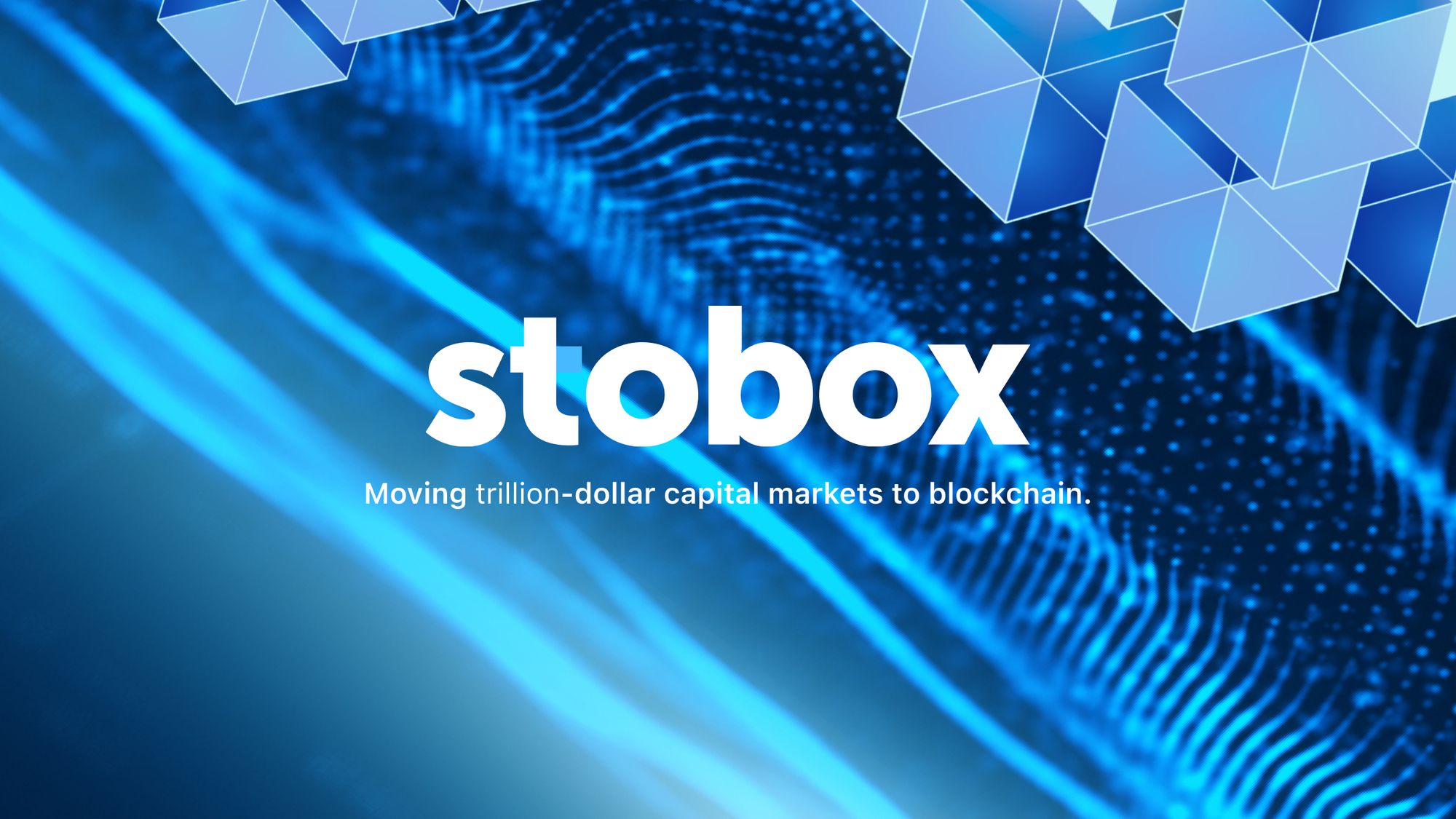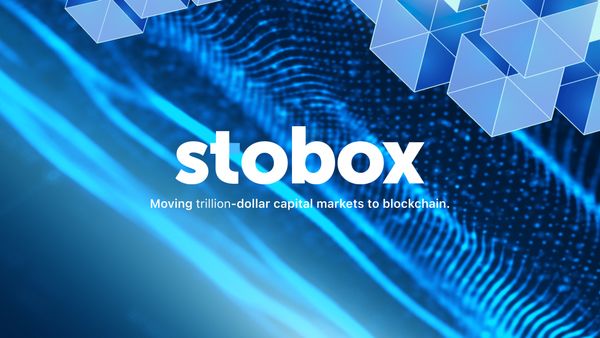 Stobox is an award-winning tokenization company that provides technology and consulting to help clients leverage digital assets and tokenized securities.
Stobox's proprietary methodology and practices allow transferring any asset to the blockchain in a legally compliant and efficient way.
---
Unlocking the power of tokenization
Unlock liquidity and interoperability using DeFi, which increases the price of assets by up to 40%.
Achieve differentiation by tapping into NFTs and utility tokens. Stand out from the competition, increase margins and customer engagement.
Adapt to the challenges of the 21st century.
Gateway into the decentralized web
Tokenization as a tool for private companies to fundraise globally completely online.
Distribute existing shares of well-funded companies among shareholders and avoid paperwork.
Open a secondary market for private companies without going public.
Benefits for Businesses
10+ companies are in the process of launching their Security Token Offering with Stobox. More reviews to come...
Turn-key solution by Stobox
Stobox provides complete support at all tokenization stages, which eliminates the need to engage multiple different service providers.
Open new opportunities
Unlock new business models based on Web-3 technologies.
Accessibility
Fundraise regardless of your size, requirements, geography and growth trajectory.
Decentralized trading
Become more attractive to investors by enabling decentralized trading of securities by using Stobox DS Swap.
Reach diverse investors
Raise capital from any investor with checks from $100 to $10M.
Benefits for Investors
Blockchain transforms finance in a same way how Internet transformed communications.
Easy investment process
No involvement of middlemen and physical travel for purchase — direct, digital, streamlined investment.
Decentralized trading
Most private securities, as well as security tokens, are not tradable, but with Stobox, trading is enabled.
Full legal compliance
Security tokens are regulated and provide full legal protection of investor rights.
New investment approach
Engage Millennials and Generation Z using gamified user engagements.
Access unique assets
Stobox clients offer lucrative investment opportunities most investors don't have access to.
How tokenization works
Stobox's proprietary methodology and practices allow transferring any asset to the blockchain in a legally compliant and efficient way.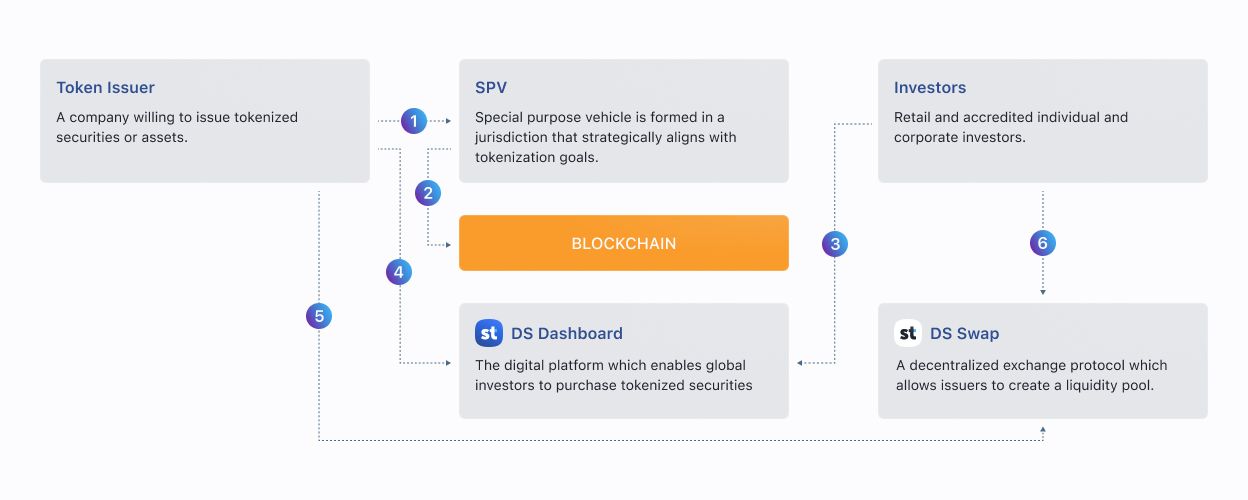 Assets to be tokenized are consolidated into a Special-purpose Vehicle (SPV).
Stobox transfers paper-based securities into smart contracts deployed on a blockchain.
Investors register on the platform and invest in security tokens.
Issuers manage investors, corporate actions, and investor relations via DS Dashboard.
The issuer creates a liquidity pool on DS Swap and becomes a market maker for its token to enable trading.
Trade security tokens on the secondary market.
Tokenize! Why now?
The best time to start engaging with tokenization is now.
Online payments and financial services have become globally adopted with electronic money.
Democratization of investing: power is now on Main Street. Crowdfunding becomes more popular globally.
Traditional banks become over-regulated creating barriers to international money transfers.
Institutional investors demand too much power over the business. Not friendly for small businesses.
Cryptocurrencies and tokenized assets are going mainstream despite market fluctuations.
Tokenization is a Web-3 technology
An idea for a new iteration of the World Wide Web based on blockchain technology, which incorporates concepts such as decentralization and token-based economics.
81% of consumers who have heard about Web 3.0 think that it will improve their happiness and wellbeing. National Research Group
Projected Tokenized Market Volume by 2027 in $trn by asset class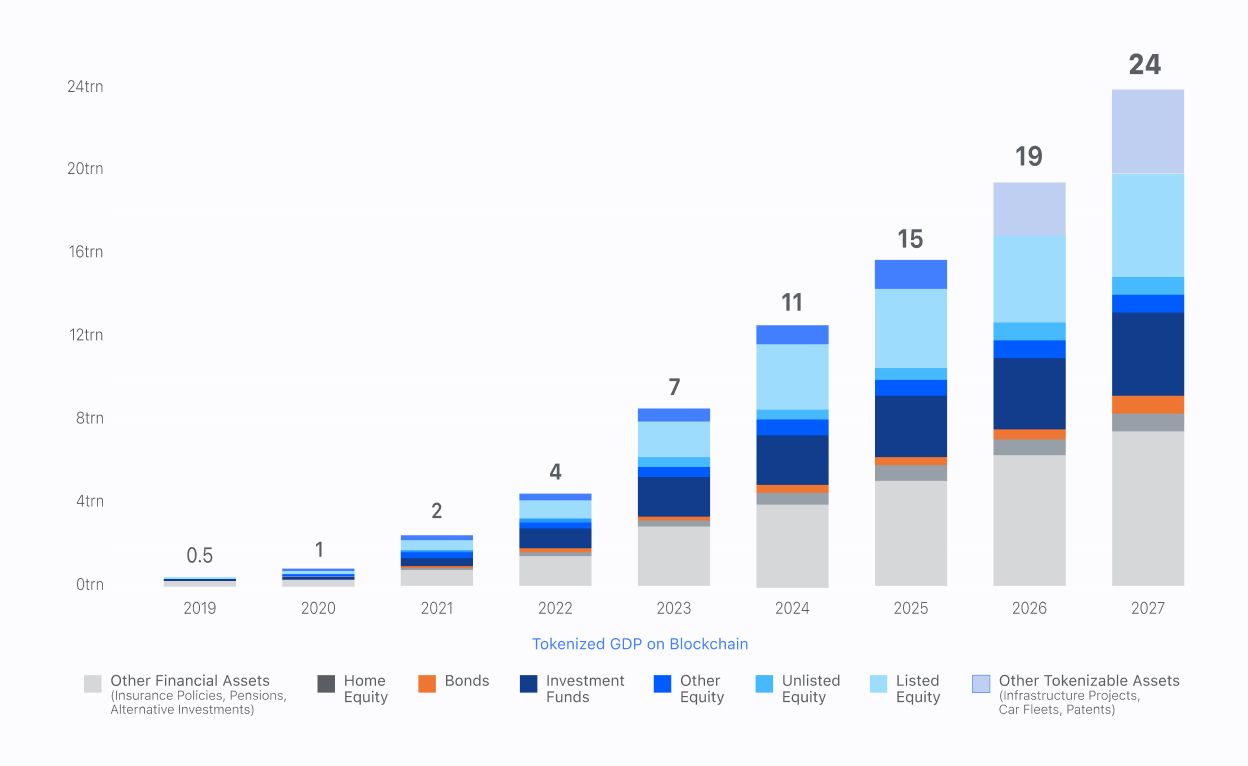 Vision
Develop open, efficient, and highly liquid capital markets for private companies using Tokenization and Web-3 Technologies.
Mission
Enabling businesses with the implementation of decentralized blockchain technologies, simplifying operations with digital assets, and removing the obstacles to their adoption.
Values  
Promotion of community-driven businesses;
Digital assets are accessible and manageable for everyone;
Promotion of innovation and tech evolution;
Simplification of processes of tokenization.