Stobox Opens Investor Whitelisting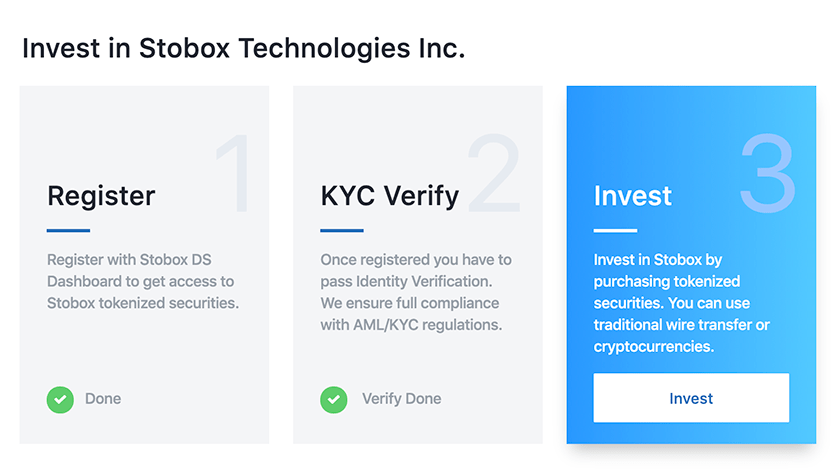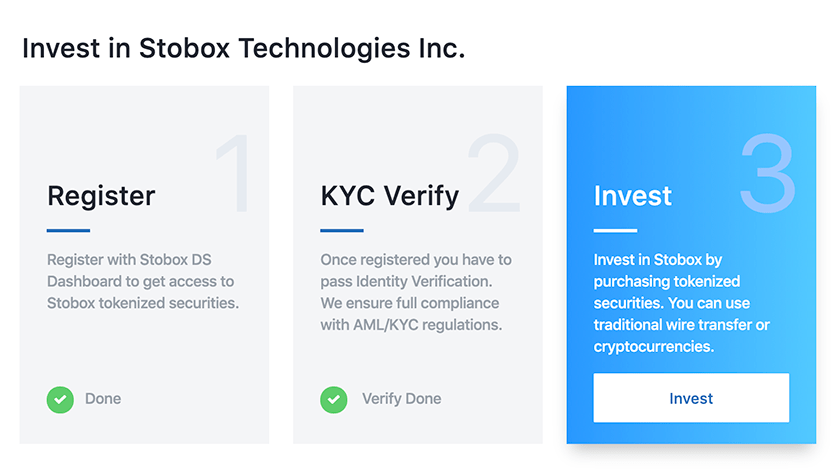 Patience pays off! We are finally ready to announce that we open an investor whitelisting for the Stobox Security Token Offering.
For us, STO is more than just a fundraising method. We could have raised printed money from conventional venture investors. But we believe in another way – Stobox is about the democratization of markets, about having a vibrant global community. Previously, only public companies could achieve transcendence, becoming something more than a money-making machine for a handful of founders. Now tokenization makes it possible for all companies to belong to the world.
To invest, conduct the following steps:
Register on the Stobox STO Dashboard via this link.
After registering, you get access to review our documentation: Pitch, Offering Memorandum, and other corporate documents.
Pass the identity verification procedure (KYC). For this, you have to provide your Ethereum wallet address, personal data and documents.
After being approved, proceed to the investment.
You can find out more and ask questions in the dedicated STO Telegram chat.
Please, provide the address to your personal wallet for which you control the private key, not the wallet of your account on a crypto exchange.
Rewards:
To express our gratitude to the early adopters, we are giving bonuses to the most active and loyal community members. Selected community members will receive a bonus of 25% of the invested amount in STBU. Therefore, if you invested 100,000 STBU, you can receive a bonus of 25,000 STBU. You are eligible for this bonus only if you invest in STBU, hold at least $5,000 worth of STBU, and are not a US citizen. Additionally, a certain number of supporters will be awarded an additional 10% bonus in STBX, i.e. an investment of $10,000 will result in $11,000 worth of STBX.
This is a limited offer available only for a few investors. There are no strict criteria and we choose the winners at our discretion. The sooner you register and the more you invest, the higher is your chance to be chosen for the award.
Stobox security token offering opens the new chapter in our story about disrupting capital markets. Thank you for writing this story with us.
Register for Stobox STO and join the Telegram chat in case you have any questions.
Note on KYC and personal data protection
We are required to conduct identity verification for all our investors because the company cannot have anonymous shareholders. We store your personal data in accordance with the highest GDPR standards, which includes strong encryption and breaking down data to be stored on different servers depending on your country of residence. We respect your data and protect it accordingly. We would never sell your data. Moreover, our personal data is stored the same way as our shareholder's data.
Legal disclaimer
Investment in securities is a high-risk activity. You may lose all the amount you invested and not be able to recover losses. You may not be able to sell the securities upon investment. Shares of Stobox Technologies Inc. have not been registered with any competent authority in any jurisdiction. This document is not intended to be an investment, financial, legal, or accounting advice neither an offer to purchase securities. Please consult your advisors before making any investment decisions. You may not be eligible to invest depending on the rules of your country of citizenship.