Stobox DS Dashboard V3 Update: SE and Pro Unveiled
We are excited to introduce the newest updates of the Stobox DS Dashboard - version 3.1.1! This update details the major enhancements aimed to simplify and improve your user experience.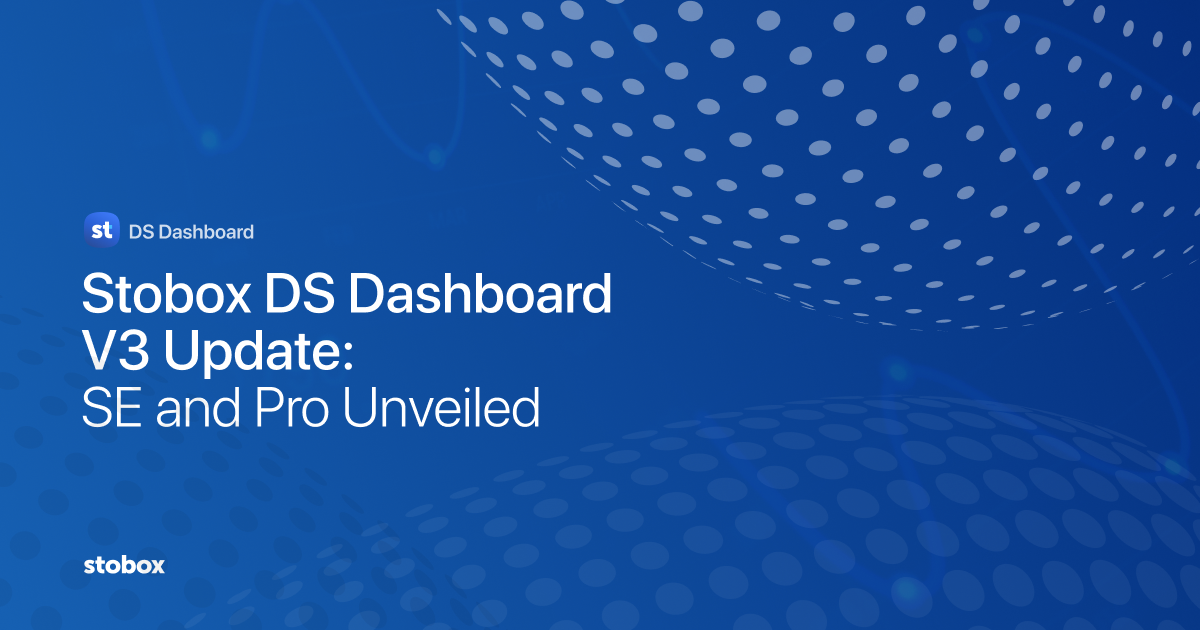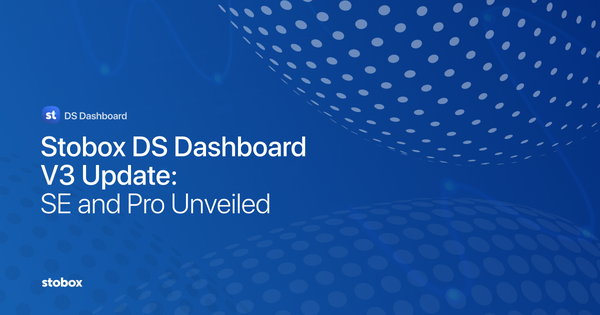 The DS Dashboard is a crucial part of the Stobox Ecosystem, a state-of-the-art platform that harmoniously integrates Web2 and Web3 technologies. This blend facilitates the issuance, management, and secondary trading of security tokens and tokenized real-world assets. Designed and developed by the Stobox team, this pioneering initiative has culminated in a fully-fledged Web3 ecosystem for regulated and compliant assets. The DS Dashboard, with its updated versions - V3 SE and Pro, embodies this vision by enabling users to efficiently navigate the digital token landscape.
Introducing DS Dashboard V3 Pro and V3 SE
We have renamed and redefined the Dashboard to better suit different user requirements:
DS Dashboard V3 Pro: This version is crafted for tokenization clients who prefer to run their processes independently without the help of automated KYC features and compliance. It is best suited for larger businesses or financial organizations that have in-house compliance teams.
DS Dashboard V3 SE: The Stobox Ecosystem is a revolutionary platform that blends Web2 and Web3 technologies to streamline the issuance, management, and secondary trading of security tokens and tokenized real-world assets. Designed and developed by the Stobox team, this pioneering initiative has resulted in a comprehensive Web3 ecosystem for regulated and compliant assets. For more information, please visit our Whitepaper.
Soulbound ID (SBID) Integration with Dashboard
The Soulbound ID (SBID), an innovative identity verification service based on the web3 model, has been integrated for more efficient login to the Dashboard system. SBID employs a non-transferable ERC1155 token to verify identity tied to specific wallet addresses. Wallets with a valid SBID are authorized to handle security tokens, thereby ensuring only compliant investors can participate in the Stobox Ecosystem. This novel approach ensures the ecosystem's security and regulatory compliance while maintaining user privacy.
Revamped Logic of Primary Limits Flow and Limit Update Requests
Both DS Dashboard V3 Pro and V3 SE versions have undergone a revamp in the logic of Primary Limits flow and limit update requests, using a new smart contract. The changes have enhanced the Primary limit logic on both the front and back end in coherence with the new smart contracts.
Enhanced Events Function Logic in New Smart Contract
New functions in the smart contract generate events that are tracked on the backend and displayed on the front end with data points. This enhancement facilitates seamless interaction between different aspects of the contract and improves the overall functioning of the Dashboard.
Edit Offering Information on the My STO's Page
In the Corporate Dashboard on the My STO's page, we have introduced a feature that allows you to update the image and description of the token offer round. This new feature empowers you to customize your token offering to suit your unique business needs.
UX/UI Updates and Enhancements
We've refined the DS Dashboard's interaction based on user behavior and feedback. This update incorporates changes to the Login page for Investors, Corporate Managers, and SuperAdmin using the SBID's system. The display of personal data on the Investor profile page has also been updated. Furthermore, transaction tables have been optimized in line with the new functions of the security token smart contract.
Embracing the Future: Weekly Updates and the Path Forward
As of June 2023, our inaugural client on the DS Dashboard V3 SE is Global Fintech Security Token. The Stobox team consistently updates the product on a weekly basis, introducing top-tier tokenization methods and flows. Our primary mission is to enable businesses to harness the power of decentralized blockchain technologies, simplify operations with tokenized assets and securities, and eliminate barriers to their adoption.
We strive to empower organizations and individuals with easy access to the advantages of tokenization and Web3 solutions, effectively bridging the gap between traditional finance and the world of digital assets.
If you're keen on exploring tokenization or wish to leverage the Stobox Ecosystem, we encourage you to reach out to Stobox. Our team is always ready to guide you in this exciting digital finance journey.
🔥
Speak to
Stobox Executive Team
and get a
free consultation
on how to tokenize your business with Stobox!