Natural Resources Tokenization: Case Studies
Natural Resources Tokenization: Case Studies.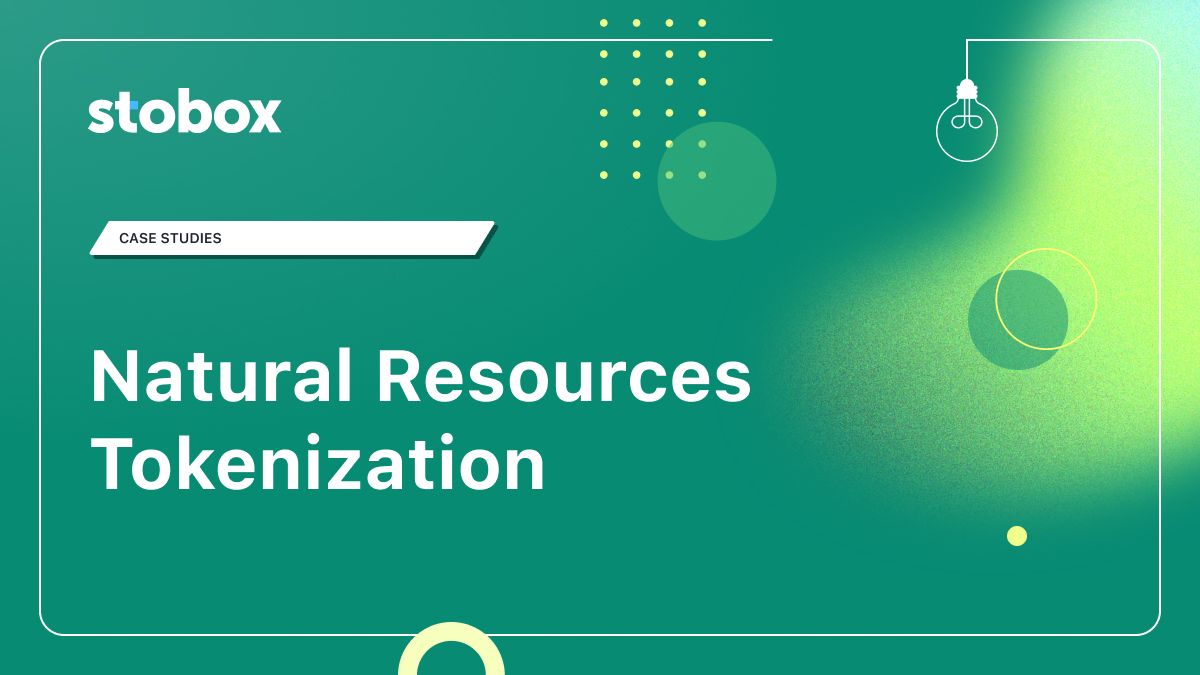 The role natural resources play in the lives of humanity is something that can never be overrated: after all, one can't separate from the environment while inhabiting mother Earth. Even in the present day, when humankind has long reached its coming-of-age, we can't lead a comfortable life without using all the resources given to us by nature. This, of course, leads to having a constant agenda searching for new, better, and more sustainable means of using them more thoughtfully.
Earlier in our blog, we explained why the solution of natural resources tokenization is a beneficial case for any business of such kind. However, this article will demonstrate the acceleration tokenization brings to your energy or natural resources on specific examples and show various models of how it can be implemented. Today, we put "green" STOs completed by different natural resources tokenization providers under our loupe.
Related: Tokenization of energy business.
Case #1. Tokenization of teak production enabled by Stobox
Silva Ortus is a Stobox client owning Ghana plantations, which have had extremely good teak harvest throughout the last ten years. Teak wood is used for furniture and parquet production and is considered a premium material. Today, Silva Ortus wishes to realize the potential of teak and vend this wood in countries like India, China, Vietnam, and others. The goal of the project is to raise $15 million to gather the teak harvest and hire a ship for transportation. This is where Stobox comes in, offering the solution of natural resources tokenization.
A given Silva Ortus project has a green promise as well. The company will redeem each felled tree by planting several new ones. The new plants will be monetized with the tokenized carbon credits, enabling a goal of being environmentally friendly.
Silva Ortus offers converted bonds to its investors, ensuring an additional level of protection this way. During the first three years, investors will receive 8 to 10% of income, having an option to either take their money back or convert them to shares after. In the last case, they will obtain fractional ownership in the company, receive dividends, as well as benefit from the growing assets value.
Case #2. World's first exchange-listed carbon footprint
TreeBR is a green blockchain initiative, which aims to protect Amazon's rainforest. The startup is achieving its mission by selling carbon offset-backed tokenized securities, offering its investors to compensate their carbon footprint this way. The money goes straight to landowners, who use it to save the trees; ergo, the carbon is stored, and greenhouse gas emissions are also reduced.
TreeBR initiative is non-profit and primarily aims to preserve the planet's natural resources rather than giving profit to its investors. However, the project is an excellent case showing that conducting a fundraising campaign with a charitable agenda can be an effective means of gathering money for a particular issue with a better success rate.
Case #3. Tokenizing US mines for precious metals
Over the course of 5 years, Coronet Metals, a Nevada-based company founded in 2012, has been examining and evaluating tailings and slags waste. Starting October, the firm is launching its STO, which will be built on an existing business of extracting non-ferrous and precious metals from tens of millions of tons of tailings and slack left at abandoned mines and smelters across the Southwest.
According to James Gim (Coronet Metals CEO), after the security token offering is completed, the mining company will use all accumulated operative funds for excavation operations and subsequent financing of the processing company's plant equipment in a joint venture. There will be no water or chemicals used, very little electricity engaged (1KW), the technology will utilize a dry concentrate. It will save on logistic expenses, making the mining process incredibly eco-friendly.
The Coronet Metals tokenization case demonstrates how it is possible to raise funds for a vital metal-mining initiative and provide compelling benefits for investors.
Case #4. Energy supplier's STO in Romania
Restart Energy One SA is a Romanian-based integrated private energy supplier that created and listed the first green bond on the Bucharest Stock Exchange earlier this year. It's a subsidiary of REIT AG ― a holding company founded in Switzerland specializing in energy-tech ventures.
REIT AG is raising 7.99 MN CHF by offering digital participation certificates on the blockchain using DAURA, the Swiss blockchain platform. To participate in the upcoming STO, investors must prove they have offset their CO2 emissions and have reached net-zero. They can do so by creating an account on the brand's recently launched blockchain platform, calculating their CO2 emissions.
According to the company's statement, its mission is to democratize a sector plagued by bureaucracy and transaction costs, free up capital, save money, enable local power producers to earn more, and set the basis for a sustainable future.
Similar to the second case, REIT AG's STO has a pro-environmental agenda, as the money made in the process will be utilized to buy renewable operational assets and expand the downstream energy supply company.
How to apply tokenization to your natural resources business?
Unlike other natural resources tokenization providers who frequently only offer technical guidance, Stobox provides a turn-key tokenization solution, operating not as a company focused on a single product but as a comprehensive ecosystem of products and services. Our company works on all the offering levels, starting from advisory to secondary trading and lifetime project support. Furthermore, you will avoid the issue of data transitioning operations between several suppliers, reducing the likelihood of errors and delays. If you want to make assets under your management more liquid and think about applying tokenization to your business, request a free 30-minute consultation with Stobox experts on our Tokenization Consulting page.