Strategic Update on Stobox Corporate Structure
Our transformation encompasses comprehensive changes to our corporate structure, licensing, and the intellectual property that Stobox generates.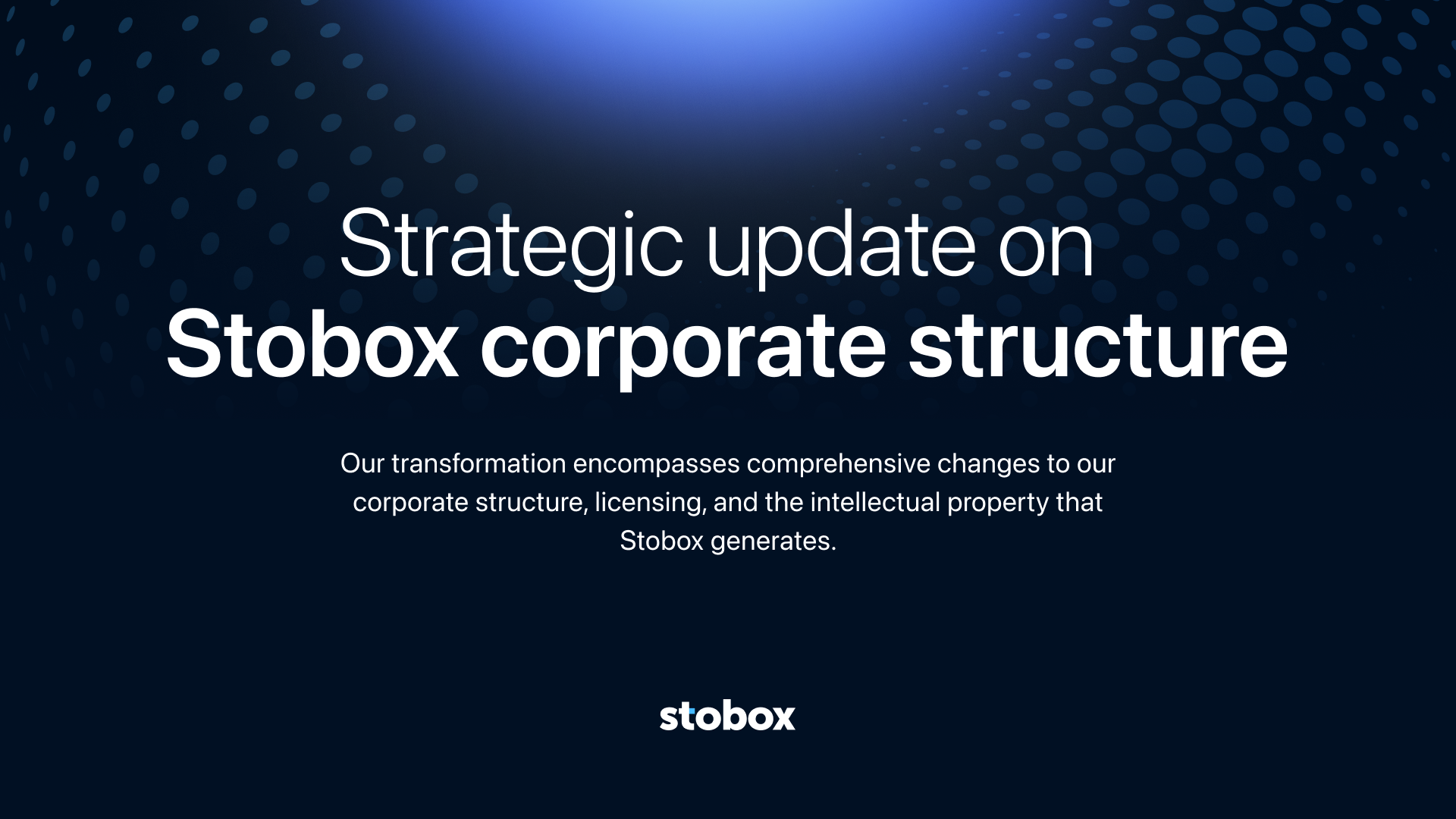 As we navigate the dynamic and evolving landscape of tokenization, it is imperative that Stobox not only progresses but also adapts to the changing environment to best serve the interests of all stakeholders. The continuous development of the tokenization market necessitates an agile and forward-thinking approach, and to this end, our Board of Directors is spearheading a pivotal transformation of the Stobox Group.
Transformation in Progress
Our transformation encompasses comprehensive changes to our corporate structure, licensing, and the intellectual property that Stobox generates. This strategic shift is designed to streamline our operations, minimize risks, and scale our growth potential.
Reflecting on the Legacy Structure
Historically, Stobox has operated through two distinct entities since its inception in 2018:
Stobox Technologies Inc. (US): The primary entity responsible for the development and execution of our tokenization products and services. This entity is fully compliant with SEC Regulations, registered in the State of Wyoming, and has innovatively tokenized 100% of its equity via the STBX Stobox Security Token. These offerings have been made available through multiple rounds under regulations such as Reg D 506c, Reg S, and the Prospectus Directive.
Stobox Plus Limited (BVI): This entity handles a range of cryptocurrency operations, including the issuance and management of proprietary digital assets.
Attached is a visual representation of our legacy corporate structure for your reference.

Key Considerations of the Legacy Structure
Independent Asset Performance: The performance of the STBX token is maintained separately and does not mirror the fluctuations in the value of STBU, SOULB, or other Stobox digital assets. This segregation, although beneficial in certain aspects, does not align with the interests of STBU and SOULB holders who seek a holistic reflection of Stobox's digital asset performance.
Scaling Complexities: Scaling our operations, particularly rooted in the United States as a blockchain development entity, involves navigating a labyrinth of regulatory and strategic challenges. This has implications for our growth trajectory and necessitates a reevaluation of our corporate domicile to foster better scalability.
Investment Dynamics: The broad community of shareholders that has emerged through our Security Token Offerings (STOs) could potentially signal caution to Venture Capital (VCs) or Private Equity (PE) funds. This perceived dilution of exclusivity can impact the attractiveness of our investment profile in traditional financial paradigms.
Joint Venture Limitations: Our current configuration poses restrictions on engaging in Joint Ventures (JVs). A more flexible and synergistic structure is required to capitalize on collaborative opportunities with partners that can propel us toward achieving our strategic objectives.
Our Commitment to Improvement
To address these considerations and pave the way for robust growth, we have developed a comprehensive transition plan. The core objectives of this initiative are to:
Forge a clearer and more stable legal framework.
Align the interests of our stakeholders across all digital asset holdings.
Open avenues for seamless scalability and potential Joint Venture partnerships.
Enhance our appeal to a wider spectrum of investors, including VCs and PE funds.
---
The Path Forward: Introducing the New Stobox Corporate Structure
We are excited to unveil the revised framework of our corporate structure, which has been meticulously designed to consolidate our operations and align with our strategic goals.
Key highlights of the new structure are as follows: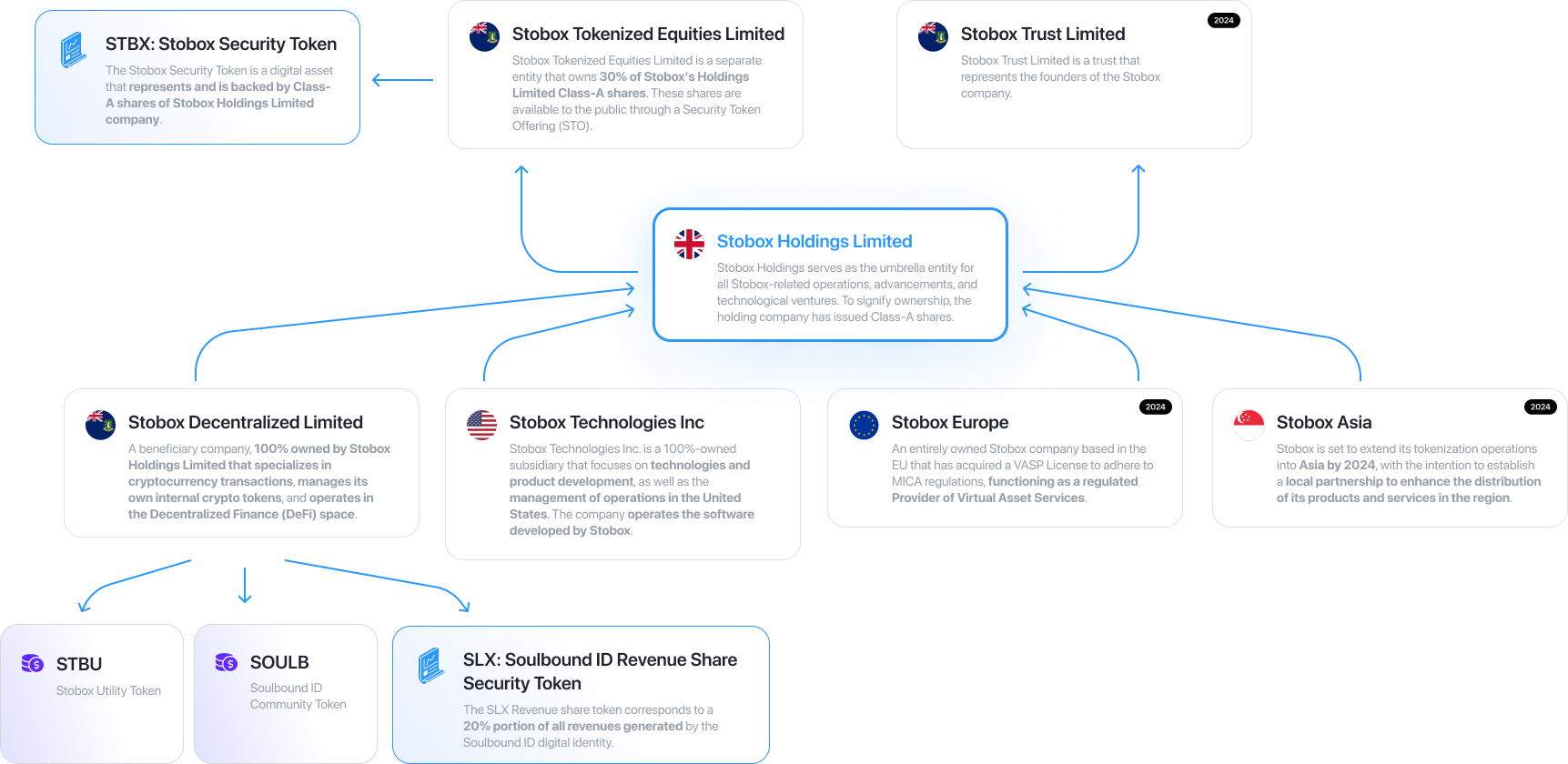 Establishment of Stobox Holdings in the UK: We have created a central holding company, Stobox Holdings, domiciled in the UK. Its role is not operational; rather, it serves as a repository for the collective interests and value creation of Stobox. As a genuine holding entity, Stobox Holdings accumulates all assets and revenue streams under one umbrella.
Dual Entity Formation Under Stobox Holdings: Stobox Holdings Limited is under the ownership of two principal entities, each catering to distinct investor categories. Stobox Trust Limited, associated with the founders, and Stobox Tokenized Equities Limited, which possesses a portion of the holding company's shares. The latter issues participation certificates that correlate with the economic rights of a single share in the holding company. These certificates are tokenized and offered as Stobox Security Tokens (STBX), making STBX a vehicle for economic rights associated with shares in Stobox Holdings Limited. Institutional investors are afforded the option to either acquire STBX tokens or make direct investments in the holding company, depending on their preference for a straightforward capitalization table.
Subsidiary Synergy and Value Reflection: The subsidiary companies under the Stobox Holding Company will continue to function as independent operational entities. However, their valuation will be fully integrated into the financial ecosystem of Stobox Holding Company. This means STBX token holders are essentially holding the cumulative value of all Stobox assets managed within our treasury.
Intellectual Property Consolidation: Stobox Technologies Inc. remains active in its role but will transition its intellectual property to the UK-based Stobox Holding Company, ensuring enhanced protection of our intellectual property assets.
Strategic Expansion with Stobox Europe: In alignment with our 2024 roadmap, we are preparing to establish Stobox Europe Company. This entity is slated to pursue a Virtual Asset Service Provider license, which will significantly bolster our capabilities in handling digital assets and security tokens. This EU-regulated presence will bolster Stobox's positioning as a premier tokenization service provider in the European market.
Unified Stakeholder Interests in New Ventures: Future partnerships and business ventures are designed to be fully integrated with the Stobox Holdings Company structure. This integration ensures that all generated value is captured and reflected in the performance of the STBX Class-A shares, aligning with the interests of all our stakeholders.
---
Conclusion: Strengthening Our Foundation for Future Success
As we draw this update to a close, we would like to highlight the significant milestones in our restructuring efforts:
STBX Restructuring: The STBX token has been restructured to serve as an economic equivalent of Class-A shares in Stobox Holding Company. This strategic move adds intrinsic value not only for current shareholders but also sets a foundation for prospective growth, benefiting future investors. It encapsulates our commitment to making STBX a more robust investment vehicle.
Growth-Optimized Structure: Our new structure has been carefully architected to accommodate expansion while balancing the distinct interests of our founders, STBX holders, and future institutional investors. By doing so, we have created a diverse but unified investment ecosystem that supports our long-term vision and operational scalability.
Licensing and Expansion in 2024: Looking ahead, our plans to acquire a Virtual Asset Service Provider license in 2024 are on track. This acquisition is a keystone in our strategy to enhance our operational capabilities, particularly in the European market, and to cement our position as an industry leader in tokenization services.
In conclusion, these steps forward mark the beginning of a new chapter for Stobox. Our renewed corporate structure is poised to unlock potential, maximize value, and sustain growth. We are on a transformative path, and your continued partnership is integral to this journey.
We thank you for your ongoing support and look forward to what we will achieve together in the ever-expanding realm of digital assets and tokenization.
---
Key Announcement: STBX Token Migration to Ethereum and BSC
We're excited to inform you that STBX tokens will soon be accessible on both the Ethereum and Binance Smart Chain (BSC) networks. The new home for managing your Stobox assets will be assets.stobox.io. While our current platform at dashboard.stobox.io will remain operational for a brief period, we will be transitioning fully to our new domain in the near future.
As part of this migration, new STV2 smart contracts will be implemented, and your existing tokens will be automatically updated to the new system. Stay updated by following our channels for additional information on these changes.