How to choose a tokenization provider: 4 things to pay attention to.
how-to-choose-a-tokenization-provider-4-things-to-pay-attention-to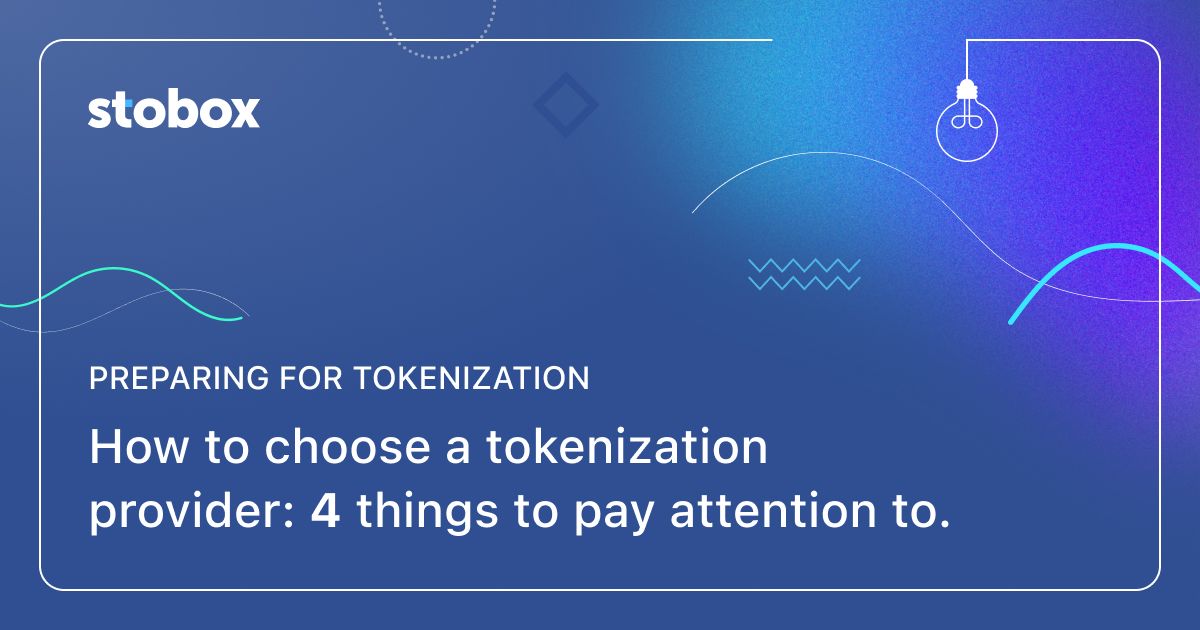 The tokenization market is growing at a rapid pace, so the number of tokenization service providers is also boosting. Naturally, it became more difficult to finally select the one who would be trusted to conduct your Security Token Offering. In this article, we will explain how the tokenization process is evaluated and what criteria a truly qualified STO supplier should meet.
How do you evaluate the STO process?
Four critical factors signal whether the tokenization provider is completing the offering correctly.
1. Timeline of executing the offering. The faster the business is conducting an STO, the less probability there is for anything to go wrong. Among the unpleasant issues that may arise is, for instance, the probability that the market conditions may shift anytime, impacting the price of an asset being tokenized. Therefore, an STO provider should have a swift and efficient process for the token offering execution.
2. Risk reduction. One deals with many risks while setting up security token offering: those are legal, financial, operational, technical, investor attractiveness risks; all of them must be considered and managed. A conscientious provider should guide a client to avoid those risks.
3. Chances for the offerings' success and whether you as a business owner will be able to raise funds is a third meaningful concern. This is something that the STO team is not 100% responsible for; it depends a lot on the quality of the business in question, the information you supply, how you communicate with investors. Nevertheless, a strong team can significantly facilitate an investor outreach for your company.
4. Long-term investor satisfaction after the offering is completed is a worthy nuance as well. Ensuring it will result in your investors maintaining a reasonable token price, supporting the brand, and being ready to participate in another financing round when the company grows or launches other projects.
Related: 3 ground-breaking instruments to empower brand loyalty and grow the community in 2021
Does Stobox have all it takes?
The short answer to why Stobox is the best operator for conducting an STO is that we are a team of experts that guide through the entire process and cover lots of unobvious nuances that are fateful for the offering in question.
First of all, as a tokenization provider, Stobox provides a turn-key solution. Instead of offering only a piece of the puzzle, like legal or technical, we become a long-term partner providing full support within the token offering process instead. This advantage immediately improves your offering in all four evaluations mentioned earlier.
Thanks to the standardized STO execution process, a turn-key solution allows you to optimize the timeline that benefits from the economies of scale and team experience. Moreover, there aren't any data transitioning operations between different providers, which reduces the chances of mix-ups and delays.
As the Stobox team is overseeing the offering comprehensively instead of paying attention just to one of the aspects, risks are decreasing significantly as well, which is a second meaningful advantage our team provides. In fact, there are more risks lying in the intersections of two different aspects, such as legal/tech issues, which will not slip out of a turn-key tokenization provider's attention. Meanwhile, segregated token advisors support their clients only in a single field of expertise.
Importantly, Stobox provides support during the preparation of the offering and while you are reaching out to investors. Our team can advise you on positioning your offering for investors, drawing attention to essential nuances or metrics, introduce you to our marketing or investor relations partners, and even promote your offering in our investor network. Our experience and connections significantly raise your chances to complete the offering successfully.
If you'd like to learn more about the financial metrics which are particularly meaningful to investors, you can dive deeper into this topic while reading our article "Advantages of tokenized securities that matter to investors."
Stobox supports its clients even after the process of conducting an STO is over. We are interested in your offering to be successful, token price remaining high, and you giving us referrals and new projects. Thanks to this motivation, we help you ensure long-term investors satisfaction by offering the best technical experience, helping you design financial metrics in a due way, etc. We consider that providing a turn-key solution is a significant factor in the attractiveness of the Stobox offering.
---
The next meaningful advantage of our service is multijurisdictional global compliance. We studied private placement legislation in almost 50 jurisdictions to help you raise capital globally. The more jurisdictions are available for your offering, the higher your chances for success, as it accordingly multiplies the number of investors you can address. As a result, it becomes way easier to raise money. If you'd like to learn more about the nuances of multijurisdictional offering, see our video "A secret recipe to successful multijurisdictional offering strategy".
Decentralized finance integrations, like decentralized exchanges or lending protocols, are the last but not least of the opportunities we provide. This raises chances for success as well as long-term satisfaction, as the DeFi technologies unlock fantastic opportunities for investors. They can get more liquidity by trading tokens via market-making protocols, put them as collateral into lending protocols to get a loan, or monetize in any other way to increase the overall yield. The number of opportunities like these will make it way more attractive to invest in offerings like yours instead of those not possessing such integrations or literally any other case in traditional finance.