Future with Stobox: Equity Integration in STBX Tokens Explained
Stobox, a top-tier tokenization service provider, has recently announced a major overhaul of its corporate structure and Security Token Offering (STBX).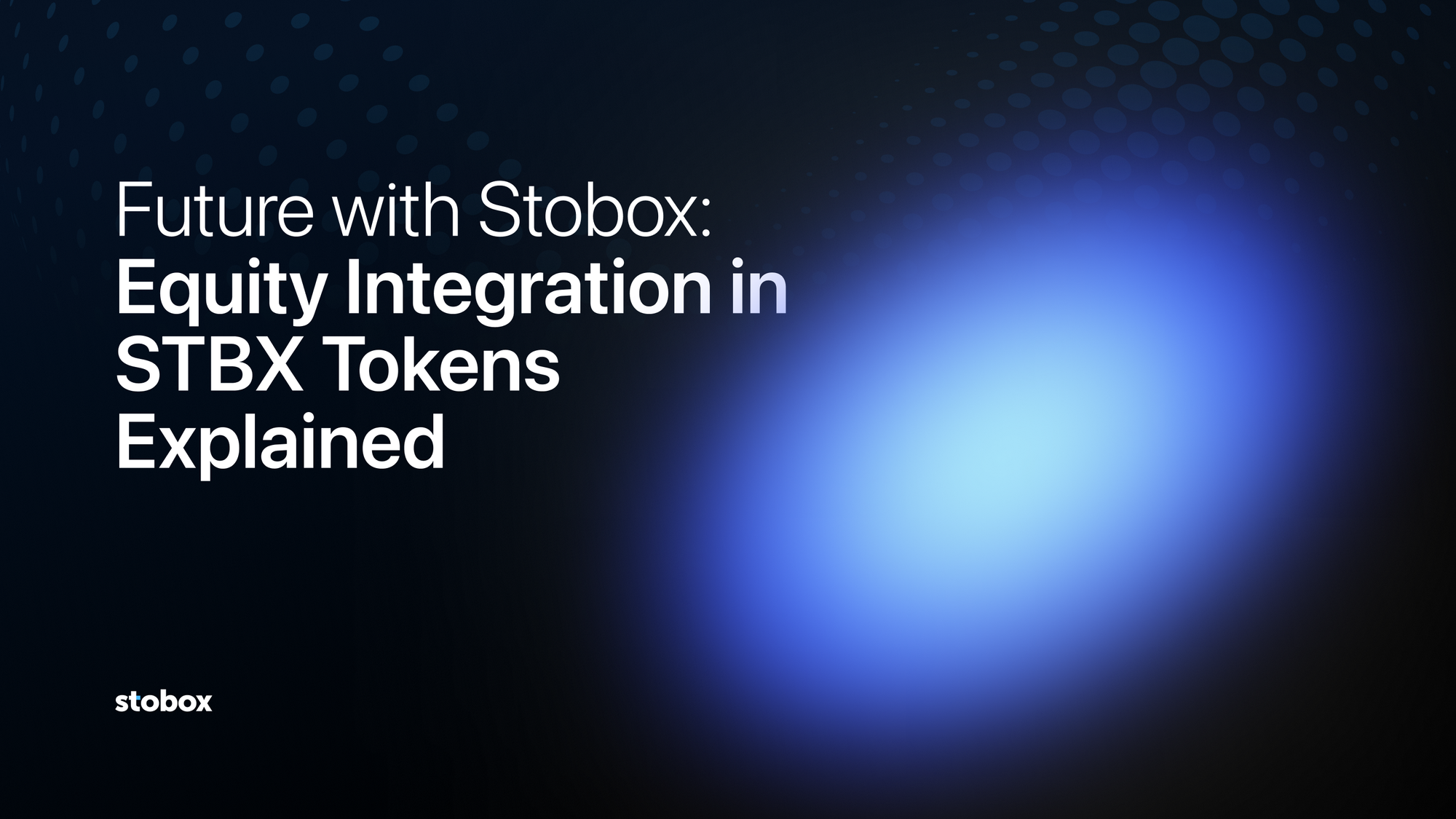 Stobox, a top-tier tokenization service provider, has recently announced a major overhaul of its corporate structure and Security Token Offering (STBX). This move significantly strides in the company's growth and strategic positioning within the ever-evolving blockchain and tokenization industry. Here's an in-depth look at the various aspects of this update.
Restructuring of Stobox Technologies and Enhanced Role of STBX Tokens
Stobox Technologies Inc., the initial issuer of the Stobox Security Token (STBX), has undergone a significant organizational change, transitioning into a subsidiary under the broader umbrella of Stobox Holdings Limited.
This pivotal restructuring has led to a substantial evolution in the nature of the STBX token. Now, each STBX token is backed by Class-A shares of Stobox Holdings Limited, fundamentally enhancing its value and significance. This reconfiguration ensures that STBX holders not only possess a stake in Stobox Technologies Inc. but also have vested interests across the entirety of Stobox's operations and product offerings, encapsulating a more comprehensive representation of the company's business.
Equal Representation with Participation Notices and Class-A Shares
In a strategic move, Stobox has introduced three million participation notices, with each notice directly equating to a single Class-A share in the holding company. This establishes a clear 1:1 correspondence. This measure solidifies the promise that every STBX token directly mirrors a Class-A share, providing token holders with an equitable share in the company's equity.
Such a straightforward alignment not only enhances the transparency of the STBX token but also bolsters investor trust in its intrinsic value.
Broadening Reach with STBX on Multiple Blockchain Networks
Stobox is taking a significant step to cater to the varied needs of the blockchain community by making the STBX token accessible on three prominent blockchain networks: Ethereum, Polygon, and Binance Smart Chain (BSC). This approach of diversifying across multiple chains aims to increase liquidity, minimize transaction fees, and present a broader spectrum of interactive opportunities for token holders. By tapping into the distinct benefits offered by each of these blockchains, Stobox ensures that regardless of the chosen network, STBX tokens maintain uniform value and recognition from the company.
Streamlined Platform Transition for Enhanced STBX Management
As part of its strategic corporate reorganization, Stobox is upgrading its STBX token management infrastructure. The company is transitioning from its original platform, dashboard.stobox.io, to a newly developed domain – assets.stobox.io. This transition is not just a change in the digital space but a strategic step towards optimizing operational efficiency and enhancing user experience. The new platform aims to be more intuitive and effective for managing STBX tokens.
Initially, STBX tokens were exclusively managed through the DS Dashboard on Stobox, a sophisticated platform designed for seamless management of digital securities. The DS Dashboard represented a cornerstone in Stobox's technology, offering users an integrated, comprehensive view of their digital asset holdings and transactions. Its user-centric design and functionality were tailored for the efficient management of security tokens like STBX.
However, with the evolution of Stobox's offerings, the migration to assets.stobox.io represents an expansion in capabilities. This new DS Dashboard is equipped to handle STBX tokens across multiple blockchain networks. Currently, it supports STBX on the Binance Smart Chain (BSC) and is poised to incorporate the Ethereum network soon. This multi-chain approach contrasts with the original dashboard.stobox.io, which only supported Ethereum STBX based on legacy smart contracts. The update to these contracts is a significant part of Stobox's ongoing development and commitment to embracing blockchain innovation.
Exclusive BSC Community STO Round
In a move that underscores its engagement with the community, Stobox has announced the launch of a dedicated Security Token Offering (STO) round specifically for members of the Binance Smart Chain (BSC) community. This initiative reflects the company's appreciation for its community's support, offering them a privileged opportunity to be a part of Stobox's ongoing development. It serves as a platform for BSC community members to further invest in and commit to the future endeavors of Stobox.
Anticipated Launch of STBX Secondary Trading in 2024
Stobox is setting its sights on 2024 for the introduction of secondary trading capabilities for the STBX token on Stobox DS Swap. Although the precise details and frameworks are still in the process of being established, this forthcoming feature is expected to significantly increase liquidity and open up new trading avenues for STBX token holders. The introduction of secondary trading is poised to augment the appeal of STBX in the digital asset marketplace, offering investors greater flexibility and expanded options for managing their investments.
Conclusion
The recent updates to the STBX token and Stobox's corporate structure mark a significant milestone in the company's trajectory. By aligning its token with tangible equity and expanding its blockchain presence, Stobox is positioning itself at the forefront of the tokenization market. This strategic evolution not only bolsters investor confidence but also paves the way for future growth and innovation in the digital asset space. As Stobox embarks on this new chapter, the attention now turns to how these changes will play out in the dynamic landscape of blockchain and digital securities.